Not all flexible filaments or TPU are the same. Did you know that there is a wide variety of options when it comes to choosing this type of material? Would you know how to choose the most suitable flexible filament for your project?
In addition, we often see the word "hardness", "Shore hardness", "Shore" or "Shore Hardness" or even a two-digit number, such as "85", "90", "82", etc. together with a letter, such as "A". It is normal that you are wondering what this all means and what it has to do with flexible filament.
To solve all these doubts and to have clear the relevance of this concept, you can not miss this practical post in which you will learn to know and better understand the importance of the parameter 'Shore hardness' to determine the elasticity of a flexible filament or TPU. Let's start...
TPU flexible filament?
A TPU flexible filament is an elastomer material, a type of plastic, to which a series of additives are added and with which elastic parts can be created. Due to its properties, it is often used in many industries, being a very popular material in the fashion / textile sector.
As mentioned above, not all flexible filaments are the same, but within its range there is a wide variety and we can choose the type or level of flexibility or elasticity we want. If we are going to create a very elastic piece, we will need a flexible filament, but that is very elastic, or the other way around, within the range of flexible filament, we may want a piece with some flexibility, but not too much.
What is the 'shore hardness' scale?
Therefore, in order to measure or talk about the level of intensity of elasticity or flexibility that we require or need from a flexible filament to create a part, we resort to a measurement and scale that we call "shore hardness".
Thermoplastic elastomers are measured with this scale in Shore A and Shore D according to ISO 868. Shore hardness is a measure of the resistance of a material to penetration by a needle under a defined spring force. It is determined as a number from 0 to 100 on the A or D scales. The higher the number, the greater the hardness. The letter A is used for flexible types and the letter D for rigid types. However, the ranges overlap.
'Shore hardness': is a scale that measures the elastic hardness of materials based on the elastic reaction of the material when an object is dropped on it. It is determined as a number from 0 to 100 on scales A or D. The higher the number, the greater the hardness.
How many scales are there?
Several shore scales defined according to the different properties of the materials are used to measure shore hardness. In total, and according to ASTM D2240-00, there are 12 scales (A, B, C, D, DO, E, M, O, OO, OOO, OOO-S, and R), whose values ​​range from 0 to 100 indicating the hardness of the material.
Shore 'A' and Shore 'D' Scales
The most convenient scale for measuring thermoplastic elastomer materials (or softer plastics) is the Shore A scale. The D scale is used to measure the hardest. In the image gallery you will see in detail the Shore hardness scale "00", "A" and "D", as well as their equivalents. Thus, a material with a Shore 82 hardness on the A scale (such as our Filaflex 82A 'Original' flexible filament) is roughly equivalent to a Shore 33 hardness on the D scale. Let's try another example. Filaflex 70A with Shore 70 hardness on the A scale, would be equivalent on the D scale to a Shore 23.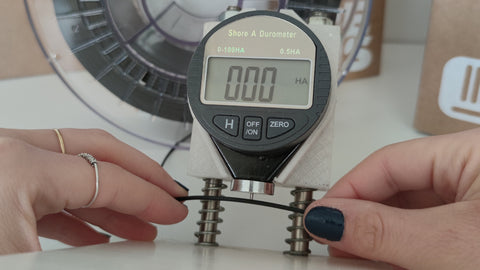 Table of equivalences between scales A and D
Now, we are going to see a table of equivalences between the A and D scales referring to the 4 Shore hardnesses of our Filaflex filaments.
In addition, in this graph we can also see the comparison between the Shore A and D hardness scales.
Relationship: Shore A to Shore D
The Shore hardnesses of the Filaflex family
At Recreus we use the Shore A hardness scale to classify the flexible filaments of the Filaflex range. In this way, we determine the hardness of each filament to know in which applications and/or pieces we can use it based on its Shore hardness (elasticity).
Specifically, in the Filaflex family we have 4 types of filament according to their Shore hardness:
Filaflex 95A, 'Medium-Flex', semiflexible, with Shore hardness of 95A, very easy to print and compatible with the 100% of the 3d printers. With 500% of *elongation.
Filaflex 82A, 'Original' and our flagship filament in the Filaflex range. With a Shore hardness of 82A. Very good elasticity and the best selling flexible filament. It has an elongation of 650%.
Filaflex 70A, 'Ultra-Soft', with a Shore hardness of 70A, is a highly elastic and advanced filament with an *elongation of 900%.
Filaflex 60A, 'Pro', with a Shore hardness of 60A, is the most elastic and softest filament in the entire Filaflex range and even in the elastic filament market for 3D printing. Has an *elongation of 950%.
*Elongation is the percentage of stretch until the material breaks, as long as its elastic limit is not exceeded.
Elongation of filaments of the Filaflex family
Pack of samples of the Filaflex family. Test all the hardness of the range!
Due to the wide demand and curiosity to test the hardness of Filaflex, we created the sample pack of the Filaflex family. A pack that you have available in our online store in both diameters, both 1.75 mm and 2.85 mm and that includes a sample of 50 gr of each filament of the Filaflex family:
1 sample of Filaflex 95A (black color)

1 sample of Filaflex 82A (grey color)
1 sample of Filaflex 70A (transparent color)

1 sample of Filaflex 60A (white color)
It is the perfect product so that you can test the entire range of Filaflex without having to assume the cost of a larger coil to test with your printer. Below you have more information about 'Filaflex Family Pack'.
Now that you know what 'Shore hardness' means, what Filaflex hardness do you want to print?